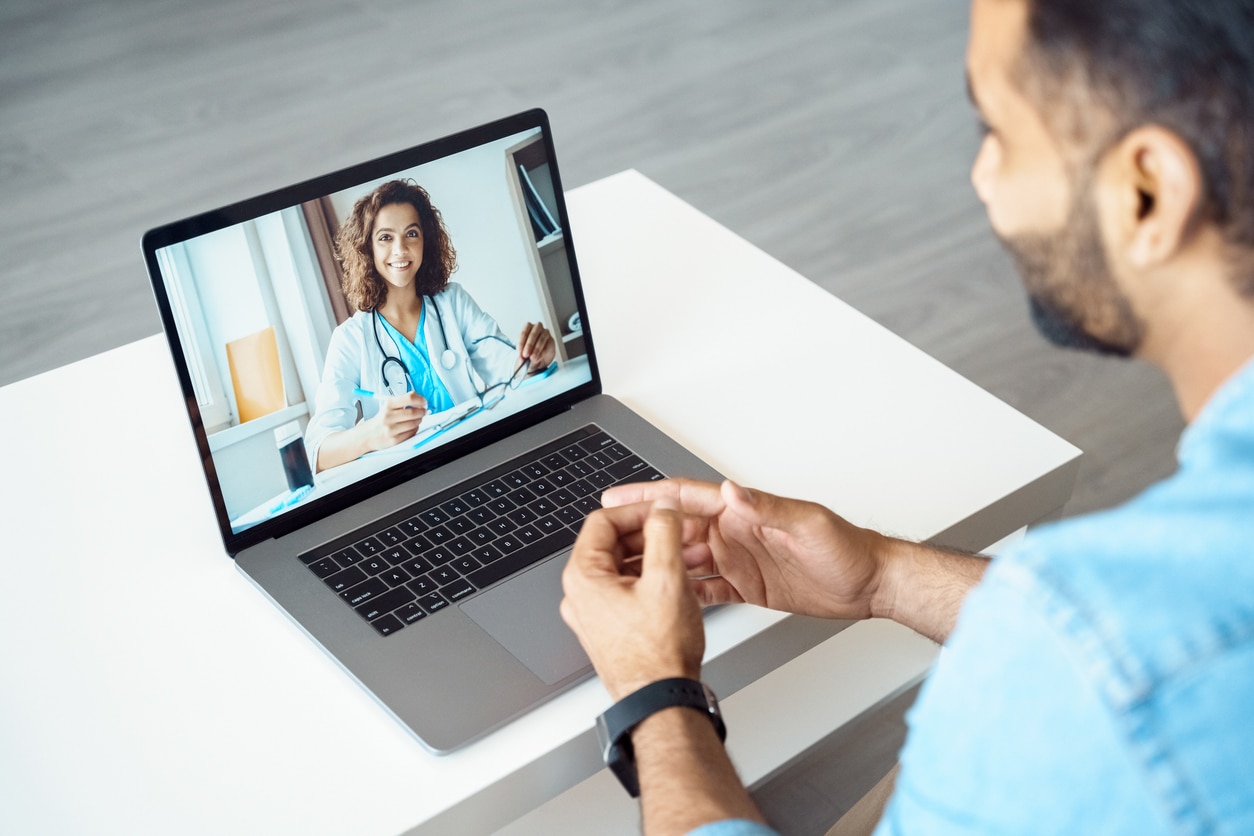 Virtual Women's Health Care & Out-of-State Patient FAQs
If you're suffering from pelvic pain, endometriosis, uterine fibroids, or other debilitating conditions, we understand how hard it can be to find not only a doctor near you but also one who will listen to your concerns. On top of that, it can be challenging to get out of bed some days—much less make it to a doctor's appointment. 
Fortunately, the team at Endometriosis Treatment Center of America (ETCOA) offers virtual women's care and accepts patients from out-of-state. We're answering frequently asked questions about these two forms of care so that you can feel confident and comfortable about your health—no matter where you are in the U.S. 
Does Your Team Offer Virtual Care?
Yes! At ETCOA, our Speciality Virtual Care (SVC) program offers the opportunity to connect providers with patients—anytime and anywhere. Our virtual visits are designed to be convenient and comprehensive, with numerous appointment times to choose from, ranging from early in the mornings during the week to the evenings on the weekend. 
While we obviously can't perform any diagnostic testing or imaging over the video screen, this is the ideal time for our team to learn more about you and your symptoms and answer any questions. If testing is necessary, we will have your care plan developed and ready before you even walk through our doors.  
What About Out-of-State Care?
At ETCOA, we understand that it can be challenging to find a compassionate, knowledgeable, and highly professional provider. That's why Dr. Jonathan Zaidan, MD, FACOG, and his team are dedicated to offering women's healthcare for those located beyond the state of Michigan. 
If you're traveling to us from out-of-state, we can work with you to find convenient appointment times and unparalleled support and care. Whether you're suffering from undiagnosed pelvic pain, abnormal periods, or other women's health conditions, we're here to help at ETCOA. For each of our patients—both in & out-of-state—we develop unique treatment plans curated to manage and treat your symptoms so that you can get back to living your life to the fullest. 
Where Should I Stay for Out-of-State Care?
ETCOA partners with DoubleTree by Hilton Bloomfield Hills Detroit to offer a discounted rate for all patients and families. Most surgeries at ETCOA are performed at McLaren Oakland Hospital, and this hotel is just a short drive from the hospital. 
When you call the hotel to book a room, explain that you're a patient undergoing surgery at the Mclaren Oakland Hospital to receive your discount for you and your family's stay. If you have any problems booking a room, don't hesitate to contact our team for more information at (248) 397-9129.
Do I Need to Come Back for a Follow-Up Visit if I'm Out-of-State?
Depending on the type of treatment you received, you may or may not need follow up care. If you need follow-up care, our team of experts can work with you to find the right time for you that fits within the treatment plans and your schedule. 
At ETCOA, you'll never be surprised by any information. We believe women's healthcare is a partnership, not a business transaction. We strive to offer clear, compassionate communication before, during, and after your treatment so you always understand the next step. And this doesn't change if you're a virtual or out-of-state patient. 
How Does Virtual Care Work?
With virtual care, you'll communicate with your provider via telephone or computer. Often called telehealth or telemedicine, virtual care offers a way for our team to communicate with patients outside Lake Orion and Birmingham, MI. 
A staff member will discuss how you can set up your mobile device or computer for virtual care. Your online visit will be just like an in-person visit, and your provider will ask you about your health history, medications, symptoms, lifestyle, and more. Depending on your symptoms, we can guide you through assessments. Your provider will then share the care plan with you and answer further questions. 
World-Class Care Right at Home
At The Endometriosis Treatment Center of America, our mission is to offer the highest quality of compassionate, effective medical care for women across the United States. We understand it may feel uncomfortable discussing your symptoms, but your quality of life can significantly improve with treatment. 
Our team of experts strives to make your visit as comfortable and stress-free as possible with our in-person, virtual, and out-of-state support. No matter where you are, ETCOA would be honored to be a part of your healing journey. 
Your Endometriosis Experts: ETCOA
Proudly serving Michigan residents and beyond, our team at ETCOA is dedicated to your overall health and well-being. Whether you need in-person, virtual, or out-of-state care, we can help you find relief from pelvic pain, painful periods, and more. Call us at (248) 609-6040 or request an appointment online today!